Ceremony Venues Kalithea Springs and Spa
Rhodes Wedding Ceremony Venue Kalithea
It's all about location and Kalithea Spa has it all. Full of history and charm it really is the most exquisite wedding venue on Rhodes.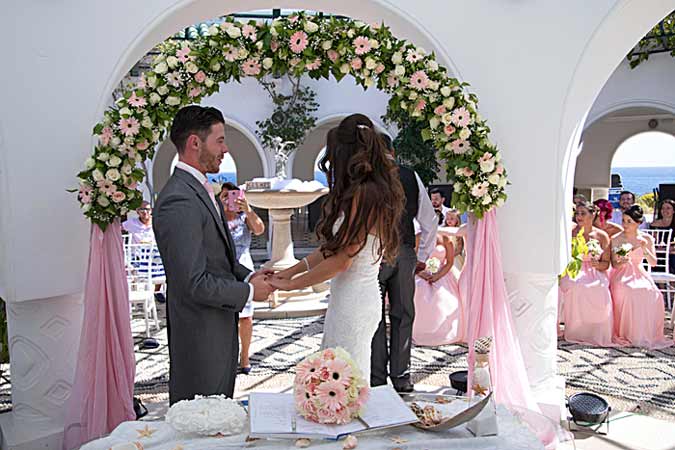 With an amazing panoramic view for the backdrop for all your photos, this venue has everything under one roof from whitewashed columns at the entrance, beautiful landscaped gardens to the dome that awaits you inside with its sea views.
On arrival you can walk up the aisle to your favourite song played on a cd or go for something extra special and hire the acoustic duo for the hour.
We can arrange champagne and canapés after the ceremony or why not surprise your guests and sail off into the sunset on a champagne cruise.
Whatever you decide, your ceremony at Kalithea Spa will fulfill all your Rhodes wedding wishes.
Additional Information:
Ceremonies are held on weekdays 3 pm-7 pm
Bi-gradable confetti may only be used on the exit out of the spa.
Additional Fees apply for this venue if using our wedding packages: Mythos , Aphrodite and Catholic:
• Wedding Party : 2- 10 €184.00
• Wedding Party : 11-40 €246.00
• Wedding Party : 41-60 €307.00
• Wedding Party: 61-100 €369.00
• Wedding Party: 101-150 €492.00
Please click on the contact Us link to find more about our Rhodes wedding services.
Rhodes Wedding Ceremony Venue Kalithea Springs & Spa