Rhodes Weddings Ceremony Venue St Sofia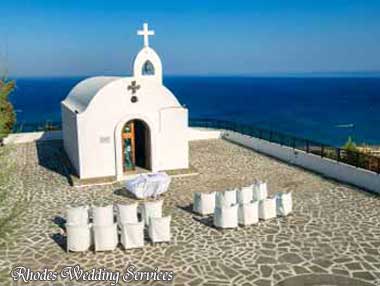 Located in the grounds of the Esperos Village hotel, St Sofia chapel boasts panoramic views of the east coast. Ceremonies are held outside the chapel.
We can arrange, at an additional fee via the hotel, drinks and canapés. The chapel creates the perfect backdrop for your wedding photos.
Additional Information
• Ceremonies are held on weekdays from 14.00 - 19.00
• Bio-degradable confetti only may be used.
• Cd and live music is permitted.
• Additional Fees apply for this venue if using our wedding packages: Mythos , Aphrodite.
• Ceremony set up fee €450.00 includes chairs with covers and a ceremony table with a skirt.
Please click on the Contact Us link to find more about our Rhodes wedding services.
Rhodes Wedding Ceremony Venue St. Sofia