Rhodes wedding Decorations and table Arrangements
• Chair Covers... White Chair covers
• Organza Bow... available in all colours
• Table Runners... available in all colours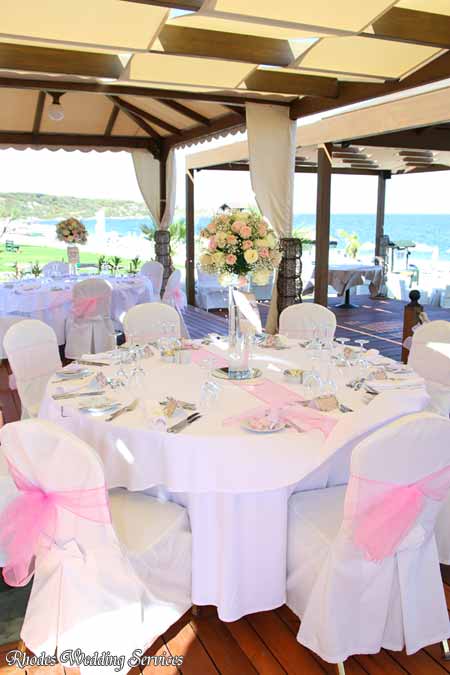 • Napkin Ribbon... all colours available
• Candles... candle in tea lighter holder, available in various colours: (note: glass is for hire only)
• Candles... in snapshot type glass available in all colours.
• Candles... tall free-standing on small round mirror all colours available
• Candle... in hurricane lamp with coloured crystals - crystal colours are pale pink, clear/white, turquoise, red/wine, brown, orange, lemon, (note: glass is for hire only)
• Coloured candle in hurricane lamp –candle colours are white, cream, pink, wine, blue, green, orange turquoise, red, lemon, brown, royal blue (note: glass is for hire only)
• Hurricane glass and candle with sand... All candle colours available (note: glass is for hire only)
• Lanterns... Various sizes and styles available include candle. Lantern colours available are cream/white, brown and black
• Lanterns... small square table lanterns available in white, black, pale pink, pale Greek blue, cerise pink with tea light candle
• Fish Bowls... with a single flower and 2 x tea lights
• Fish Bowls... filled with roses inside the bowl from
• Fish Bowl... as large floral arrangement from
• Small glass... vase filled with 3-4 flowers
Favours:
• Organza bags with almonds
• Organza bags with ouzo/wine/whisky etc
• Boxes with almonds
• Other favours are possible please ask for details
Helium Balloons:
• Bundles of 3 – various colours available: minimum order 4 bunches
• We can also arrange balloons in pools, heart shape hanging arrangements, exploding balloons and standing balloons.
Firework:
• We can arrange to be set off during your cake cutting or first dance.
Please click on the Contact Us link to find more about our Rhodes wedding services.
Rhodes Wedding Decorations and table Arrangements