Rhodes Wedding DJ Music & Entertainment
Rhodes wedding DJ
Weddings in Rhodes, We Provide special offers for DJ, Music, entertainment for your wedding here on Rhodes with our company Rhodes wedding services. We can offer you a wide range of music and entertainment to accompany you to the ceremony venue or to party the night away.
Whatever your taste or choice in music we have something to suit everyone.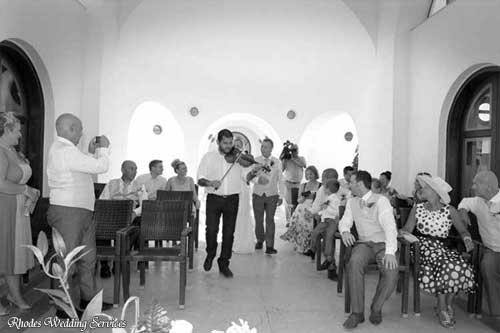 Church Music
• Greek Accordionist / Violinist... Be escorted to the chapel or ceremony venue by an accordionist or violinist playing traditional music.
You can book them individually or as a duo.
• Greek Accordionist / Violinist... Be escorted to your ceremony and reception venue.
• Wedding Singer... Acoustic Duo Guitarist and singer... With a list of over 50 songs to choose from all eras, the acoustic duo is a hit at every wedding.
They offer a one-hour session for the arrival of the bride and then songs after the ceremony. They can also arrange an hour at the reception if you prefer to have live music for your first dance.
Entertainment
• Disco... Professional DJ, Microphones for speeches, announcements, etc. (plus Karaoke if you wish) – 12 pm
• Disco & Professional Greek Dancers... A perfect way to get everyone up and start the party with a bit of fun.
• Greek Band... Looking for something a little more traditional why not try a Greek band and live singers.
*By Greek law music must be turned off by 12 pm; however there are a few venues that can allow longer, additional fees apply.
Please click on the Contact Us link to find more about our Rhodes wedding services
https://www.facebook.com/rhodeslindosweddingservices/
https://www.youtube.com/channel/UCBSGveWoaVTzzq64444Fsrg/videos
Rhodes Wedding Music & Entertainment