Rhodes Weddings Legal Requirements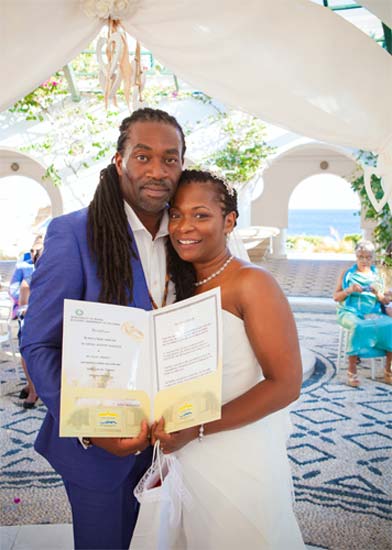 What documents are needed to get married in Rhodes Greece? How many days do you need to be in Greece before getting married? Where can I get married in Rhodes Lindos, Kalithea, Faliraki, St Apostoloi, St Sofia, Fillerimos Cros?
Please find detailed below your Rhodes Wedding Legal Requirements.
These requirements are laid down by the Greek authorities to enable you to have your marriage in Greece.
Once you have collected the required documents we will arrange all your translations and submit your documents to the relevant office on your behalf.
We will also after the ceremony takes care of collecting the marriage certificate applying for its Apostille stamp and translating and posting the certificate to you.
All documents must be originals OR certified copies and all must be legalized by an Apostille Stamp*
• Full A4 Birth Certificate (The long version)– For both parties. If you were born outside the United Kingdom you must receive your original birth certificate and Apostille Stamp from the country you were born in.
• Certificate of Non-Impediment (freedom to marry)– this document confirms you are free to marry, and is available from your local registrar and can take up to 3 weeks to be issued. Please note this must not be issued more than three months before your wedding day. You must inform your local registrar of the address of your ceremony location, which we will advise you at the time of booking. This document is also non-returnable – For both parties
Tip-count exactly 3 months back to your wedding date, that is the date you should have your appointment at your registry office to obtain the Non -Impediment ie your wedding is 6th June your appointment should be 6 March the document takes approximately three weeks which gives you than the three weeks overlap for the paper to still be valid and allows you to get all your paperwork done earlier. Call your registry office as soon as you book to make your appointment.
• If you are divorced – a Decree Absolute signed by notary or solicitor
• If you have been adopted – Adoption Certificate
• If you are widowed – Spouse's Death Certificate and previous Marriage Certificate
• If you have changed your name other than by marriage – Deed Poll Certificate or Statutory Declaration signed by notary or solicitor.
(Please note this also includes divorcees who have reverted back to their maiden name).
• If you are under 18 – Statutory declaration of consent of parent or guardian signed and stamped by a solicitor.
• Passport – We also require photocopies of inside and the identity information page, from both parties. Apostille Stamp isn't required.
*What is an Apostille Stamp?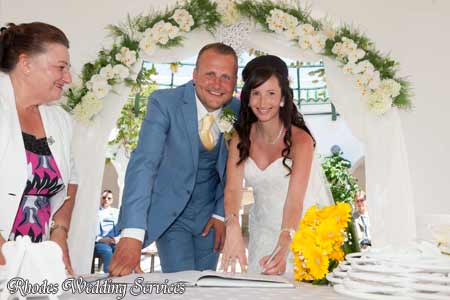 An Apostille Stamp legalizes your documents and confirms they are true copies, which is necessary for the legalization procedure to take place in Greece.
Further information can be found on the FCO website.
Please call the FCO before posting to check that all your documents are correct and in order.
All documents will be held in the local registrar office in Rhodes and are non-returnable.
Translations
Translations are arranged in Rhodes, with four documents included in our package cost (UK documents only). There will be a supplement for additional documents or documents from other countries.
Please click on the Contact Us link to find more about our Rhodes wedding services.